Extreme Symbiosis
.

EXTREME SYMBIOSIS | THE PERFORMANCE

Henrik Agger and Louise Bjurholm von Euler presents an intimate 55 minute documentary performance that gives the spectator an insight to their work, practice and lives as Pair Acrobats.
Henrik and Louise have been working together since 2001, and in Extreme Symbiosis they share their artform and everyday life as performers.

By showing and highlighting the importance of constant mental and physical training in their art form, they hope to broaden people's understanding of it. The daily practice is their common goal, as well as a driving force that overrides even personal feelings. The trust and the cooperation needed in their practice, is affected by both emotional and external factors such as time and space. The performance is heartfelt, and touches on universal experiences that anyone can relate to.

INFORMATION
Playtime : 55 min
Ages : 15+ years and up
Stage size : 5 x 5 m.
Height : 5 m.
For more information, booking, and technical rider please contact us through:
info[at]acrobalance.com


(länk till trailer)

EXTREME SYMBIOSIS | BACKGROUND

"Extreme Symbiosis" is the result of a research project, where we have tried to examine our Circus Discipline – Pair Acrobatics – on a deeper level. Outside the stage and behind the risky moments there is a whole practice that we want to highlight, and we, therefore, decided to explore what our practice consists of. What happens in the interaction between us when we perform our practice?
A collaboration between bodies and minds, individual systems, and common senses. A long-standing partnership based on extreme trust, which is challenged every day in the practice.

Our goal with this performance is to make a performative staging of our practice, that can touch on topics without having to explain too much. We want to let our practice speak for itself through the physical expression, but also give the spectator an insight into the daily practice of our art. By adding our own documented material such as film, texts, and audio interviews, we hope that these different media can complement each other and, together, convey a nuanced picture of our practice.

This performance is very much our practice. We will show a piece of our daily training as it is, a repetition of certain routines, which have been part of our practice over all the years we have been working together. Of course it has changed slightly over the years, the process has moved to one or the other side, but the basis is the same now as then.

The Circus as an art form is largely based on the repetition of the same material. It is in this way Circus arts often differ from other art forms. We bring our repertoire wherever we go. Instead of changing repertoire, it is the context that changes.

In the search of a performative format that could display various aspects of our practice, we both felt the daily training was the most representative. It is what physically and mentally affects us the most in our practice, it is what everything revolves around. It is where our interest is located, yet it is not the side we usually show. So this performance is both an experiment, and an everyday routine for us.
.
EXTREME SYMBIOSIS | THE BOOK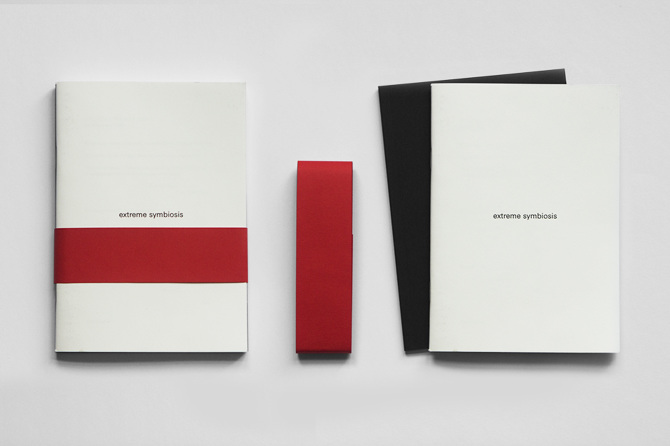 In these books the genre of Pair Acrobatics is depicted, discussed and problematized, seen from
our perspective as practitioners. In the white book you will find uncensored diary notes, while the black book is a description of the practice and a problematizing of its phenomenons.
.
""By reading the white booklet, which is a fragment of a more in-depth and informal diary, you start to get a sense of the vastness of the giving and taking that is in a partnership. Which is true of all partnerships but this even more so! /…/ Realizing this I, as a reader, start to feel lightheaded despite being firmly anchored to my chair"

Margareta Sörenson, DANS -tidningen för rörlig scenkonst